Konica Minolta's Optimized Print Services (OPS) combines consulting, hardware, software implementation and workflow management in order to lower document spend. We focus on the following essential areas:
Right-sizing the number of printers to actual business needs, providing optimal business process and fleet support..


Analyzing business-relevant document flows in order to increase productivity and design and implement a tailor-made solution for you.


Designing and implementing IT and information security solutions, from user authentication and data-safe hard disk handling of disposed devices to complex network security requirements.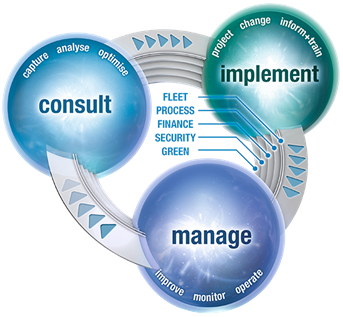 Consult
Analyzes all your document workflows, including scanning, printing, and any printed email, archiving and outsourcing—in order to increase productivity and realize enterprise-wide cost savings. Optimizes security protections for documents and devices, with multiple options for user authentication, account tracking, data encryption and network security
Implement
Presents a right-size document fleet for your actual business needs—with sophisticated digital functionality, networked productivity and finishing power for on-demand production. Provides world-class support for your entire system, including automated meter reads, proactive maintenance and delivery of consumables, online training and much more.
Manage
Keeps your equipment operating at peak performance, with remote monitoring to reduce your administrative costs and free your IT staff to concentrate on business objectives. Gives you the benefit of Konica Minolta initiatives to minimize energy consumption, reduce pollution and recycle consumables effectively.


We offer device management software that complements Konica Minolta's comprehensive product portfolio to ensure uptime of your printer fleet and reduce the administrative burden on your staff by managing networked output devices centrally and remotely. This allows for the seamless availability of output devices and notification when consumables need to be replenished. Accurate status reports and snapshots of usage are provided.
You want to reduce administrator time and effort by managing networked output devices centrally and remotely.
You need accurate status reports and snapshots of usage, which you get with detailed monitoring based on M2M communication
Applications
Complementing Konica Minolta's comprehensive product portfolio, powerful software tools for varied office and production printing applications provide seamless integrated solutions for all business areas.

PageScope Net Care, Device Manager is a simple, powerful enterprise solution that lets administrators manage an entire fleet of MFP's from a centralized server. Network administrators will save time and effort by working within a familiar desktop PC environment. It allows administrators to create a "template" of network settings to be applied to one or multiple Bizhubs on the network. As new machines are added the network settings can be pushed out.
The software automatically locates all non-Konica Minolta devices and detects attributes including but not limited to machine status and total meter count. It combines both Konica Minolta Bizhub devices and non-Konica Minolta devices from other manufacturers in a single interface for simple management. It can provide email notifications whenever an error occurs or supplies are low.

PrintFleet software remotely monitors all of the printing, imaging and copying devices in your office environment in real-time – allowing your provider to respond immediately to any changes. By collecting and analyzing data from your devices, our software is able to display the information in a user-friendly format – allowing PrintFleet providers to assess your needs, and provide you with the service and support you require. When a printing device encounters a problem, it sends an error alert. It could be as simple as a low toner notification, or something more serious that requires the attention of a service technician.
PrintFleet® software detects these messages and promptly alerts your MPS provider. This allows for the immediate delivery of supplies as required, eliminating the need to stockpile supplies onsite. Service technicians can monitor the real-time data that PrintFleet® software provides, so that they are aware of the severity of the issue and arrive at your site with the appropriate equipment. Real-time data regarding all of the other devices in your office eliminates multiple service calls.
We offer a range of tailored solutions to help you reduce your paper costs by up to 30% - proving that it makes very good business sense to audit print costs. Our Konica Minolta print management solution can help your business to reduce costs, restrict access and monitor printing on an ongoing basis to reduce paper wastage and improve environmental impact.
Benefits
A Konica Minolta print management solution can help your business to:
Reduce costs
By using simple rules on each device a printer can for example can be set to automatically default to double sided, black and white printing, restrict access to colour printing, and set limits on how much a user can print.

Restrict access
Print environments that require an authorising PIN or swipe card to access the printer can have a dramatic impact when it comes to reducing print costs.


Customise settings
Intelligent, rule-based printing allows a printer to identify a large volume printing job and re-direct it to the most efficient or fastest device.


Monitor their printing on an ongoing basis
Comprehensive reports that outline the volume of print usage by individual, department or printing device.


Greater convenience and efficiency
Print documents from any printer, promoting better workflow efficiency. If a printer is out of action, it won't affect a user's ability to prin.

Reduced paper wastage
With documents less likely to be abandoned at the printer, businesses will use significantly less paper.


Applications
Complementing Konica Minolta's comprehensive product portfolio, powerful software tools for varied office and production printing applications provide seamless integrated solutions for all business areas.

YSoft Corporation is a progressive, globally operating company that provides organisations of all sizes with print management solutions to monitor and control their print environment. YSoft SafeQ supports organisations in rationalising printing costs whilst ensuring the security of sensitive documents.
As an extremely scalable and feature-rich print management solution, YSoft SafeQ leaves little to be desired with regard to efficiency and flexibility in the office. Thanks to its complete modularity, this software suite can be configured precisely to the needs of its users.
Even better, the different YSoft SafeQ modules can be purchased and adopted individually or in combination as and when required
Cost Management
Mobile Printing
Pull Printing
Document Security

Konica Minolta's PageScope Enterprise Suite consists of five individual software components that offer a comprehensive yet modular approach to the setup, control and management of users, input and output devices, and related network configurations.
PageScope Authentication Manager
PageScope Account Manager
PageScope My Panel Manager
PageScope My Print Manager
Konica Minolta's Variable Data Printing (VDP) service is a clever solution which can customise forms, letters, direct mail, sales flyers, invoices, statements and other customer relationship management materials and will deliver materials with a professional and consistent graphic feel.
Complex VDP jobs can also be delivered without the need for scripting or programming. Data can be supported with variable text, graphs and colour with industry standard barcodes and personalised images which are also easily incorporated. Creating personalised and tailored materials from a centralised external database is transforming business.
VDP solutions can intelligently read if personalised materials need to be emailed rather than printed and posted by detecting whether a customer has an email address. If an email address is located within the data stream, it can convert that particular file to a PDF and email it instead of printing - which in turn saves paper and mailing costs.
Planet Press Suite is a comprehensive solution for variable data printing -- allowing you to replace pre-printed forms with one-to-one marketing and communications documents through a user-friendly interface and simple drag-and-drop importing of information. Wizards allow you to include data driven barcodes and business graphs and you can print, archive, Email and fax simultaneously and automatically with no change to your host system.
With the ever-increasing dependence on smartphones, tablet, and other mobile devices, Konica Minolta offers innovative solutions enabling you to use your mobile device to view, scan, and print your documents with compatible Konica Minolta Multifunction Copiers /Printers.

In today's business world, you need to stay in touch anywhere you travel. The PageScope Mobile printing app is a powerful, cutting-edge mobile productivity tool that downloads free to your your Apple iPad, iPhone, iPod Touch or Android mobile device and enables you to manage documents on compatible bizhub® MFPs via wireless LAN connection -- printing files, scanning documents, reading email messages, even uploading and downloading data to Cloud services.
PageScope Mobile printing app will have these productivity advantages:
Mobile printing from bizhub MFPs
Scanning to your Apple or Android device via WebDav
Uploading or downloading files to/from Cloud services
Print PDF, TIFF, JPEG, XPS, PNG, BMP and GIF files on bizhub MFPs
Access documents and emails anytime, anywhere
Stay connected to increase your productivity
Google Cloud Print ready, providing the ability to print emails, web pages and word documents to virtually any office printer from Google Cloud Print enabled Android phones and tables, Chrome OS devices like Chromebook computers, and Google's Chrome browsers – no need to go through apps, install software or forward documents to email addresses before printing.
Mobile printing from bizhub MFPs
Scanning to your Apple or Android device via WebDav
Uploading or downloading files to/from Cloud services
Print PDF, TIFF, JPEG, XPS, PNG, BMP and GIF files on bizhub MFPs
Access documents and emails anytime, anywhere
Stay connected to increase your productivity