Philips' mission is to promote lifestyle products for your healthy living and enjoyment. They're inspired by you, by understanding your needs and desires. They deliver innovation that matters to you and your family. Discover how Philips' products can improve your lifestyle.
Innovations -
Over the past 123 years, Philips has lit the world, brought music to every household and helped to revolutionize the healthcare industry. That's why Fast Company recognized Philips on its influential '50 Most Innovative Companies for 2014' list, as well as naming Philips in the top 10 of the Energy and Internet of Things subcategories. "The listing was based on not only traditional markers but also "progressive, sustainable business models and an ethos of creativity"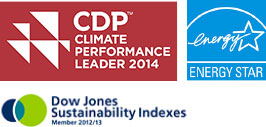 Environmental approach
Philips is recognized as a world leader in climate change strategy by CDP, fourth year in a row. They scored 100A, awarded a position on The A-List and in the Europe 300 and Benelux Climate Disclosure Leadership Index. Top 50 Best Global Green Brand by Interbrand - Philips is fastest riser amongst technology brands in the annual ranking of the top 50 Best Global Green Brands by leading brand consultancy, Interbrand. Advancing nine places, Philips has the second largest increase of all brands and now holds the 14th position, up from 23rd last year.