FrieslandCampina wins Public Affairs Asia Gold Standard Award 2014
The award was made in recognition of the company's commitment to supporting the sustainable development of dairy farming and creating shared value with its stakeholders across Asia through its Dairy Development Programme. The programme enables the company to contribute towards the further development of local dairy farming in Indonesia, Vietnam, Thailand, Malaysia and Nigeria. Through knowledge-sharing, training courses, exchange programmes and the establishment of local milk distribution systems, the programme has already supported over 40,000 local dairy farmers in Asia in their efforts to improve their farming techniques and create sustainable farming businesses.
Every day Royal FrieslandCampina provides around 1 billion consumers all over the world with healthy food that is rich in valuable nutrients. The company supplies consumer products such as dairy-based beverages, toddler nutrition, cheese and desserts in many European countries and in Asia and Africa. Products such as cream and butter are also supplied to professional customers including bakeries and food-service companies. FrieslandCampina has offices in 28 countries and its products are sold in more than 100 countries. The Company is fully owned by a cooperative., with 19,487 member dairy farmers in the Netherlands, Germany and Belgium making it one of the world's largest dairy cooperatives.

Sustainability
and Responsibility
Corporate social responsibility plays a major role in the achievement of the route2020 strategy. As one of the world's largest dairy companies FrieslandCampina accepts this responsibility by:
further increasing the sustainability of dairy farming, the production chain and dairy distribution;
marketing healthy dairy products, offering food supply security and tackling undernourishment;
making knowledge and expertise available to small dairy farmers in Asia and Africa so they can improve
their productivity and quality and increase their family's income;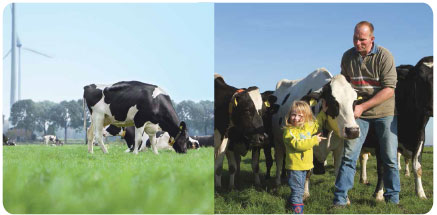 contributing towards a viable countryside
– a prerequisite for food supply security;
striving for climate-neutral growth both at the dairy
farm and company level.