Supply chain management is crucial to our business. We are constantly expanding our warehousing and distribution capabilities with continuous investment in infrastructure, safety and automation. We are committed to providing our partners with peace of mind by managing all aspects of clearing, transportation, warehousing, distribution and installation to ensure that our customers receive the service and experience which our world-class brands represent.

With a well-maintained and modern fleet of delivery vehicles, we are able to expertly serve our retail and wholesale customers by ensuring on-time order processing, project management, installation and product availability. We distribute very diverse products ranging from ice cream to industrial shelving each with its special transport storage and packing requirements. Our teams ensure that health and safety regulations and good warehouse practices are implemented at all times.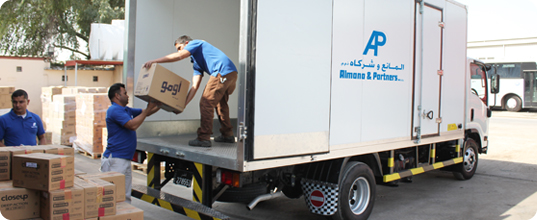 We currently employ 250 staff in our distribution and warehousing division. Our fleet of 50 delivery vehicles provide for frozen, chiller and dry transportation requirements and our vehicles are fitted with additional tailgates to ensure easier loading and packing. Our warehousing of 16000 sqm provides for dry, ambient and frozen storage requirements.